How we help you with your Estate Sale.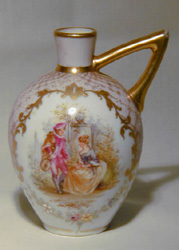 The decision to sell or downsize one's personal property may be necessitated by retirement, relocation, divorce, or the combining of two households.  If you are the executor of an estate, you may be responsible for disposal of the contents of a relative's home.  Whatever the situation, you may be overwhelmed by the decisions you face.
We offer counsel in making the difficult choices of estate disposal while completing the sale in a timely and dignified manner.
Our clients find that we can increase sale proceeds, relieve them of the inconveniences of detailed planning, and follow through with the implementation of the sale.
We have a reputation for honesty and integrity and adhere to the Code of Ethics of the International Society of Appraisers, the Appraisers Association of America, and the National Auctioneers Association
The following is a checklist of the services you can expect to receive from the Semler Appraisals & Estate Liquidations team: 
Pre-sale consultation to determine the best sales method- auction or estate (tag) sale.
Pre-sale consultation to identify which items are to be included in the sale.
Selective advertising to ensure a buying crowd.  Preparation, posting and removal of signs that attract and direct customers.
For tag sales- Establishment of fair market prices for regular items and the knowledgeable evaluation of all collectibles and antiques.  Our extensive experience results in the minimum risk of reduced revenues through underpricing or low sales due to overpricing.
Professional display and sales methods to achieve the best possible results in the least amount of time.
Handling all work involved before, during, and after the sale.
Crowd and sales control to protect your property.
Arrangements made for, and supervision of pickup or delivery for large items.
Broom cleaning of any area of the house used in the sale.
No worry about returns. All sales final.  All items sold "as is."
No hidden costs.  Fees are based on commission and are clarified in advance in a written contract.  The cost pays for itself many times over.
Accurate accounting of all monies received.
Honesty, integrity and professional standards upheld at all times.